White Balsamic Honey Lemonade - Thatcher's Organic Artisan Spirits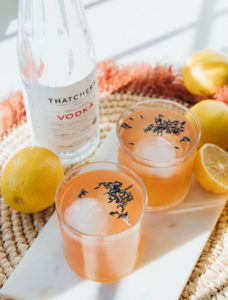 The combination of lemon, honey, lavender, and vodka create our White Balsamic Honey Lemonade cocktail.
Keywords: cocktails, vodka cocktails, organic cocktails, lavender cocktails, lemonade, lemonade cocktails, cocktail recipes
Recipe Yield: 1 Serving
Preparation Time: 15 minutes or less
Total Time: 15 minutes or less
Recipe Ingredients:
4 oz Thatcher's Organic Small Batch Vodka
1 oz organic lemon juice
1 oz organic honey
2 oz water
.5 oz dried organic lavender
.5 oz organic white balsamic vinegar
Dried lavender, garnish
Recipe Instructions:
:
Combine lemon, honey, water, and lavender in a saucepan and bring to a simmer.
Turn off the heat and allow lavender to bloom (10 minutes) and strain.
Stir strained mixture, plus Thatcher's Organic Small Batch Vodka, and organic white balsamic vinegar over ice, then strain into a rocks glass. Garnish with lavender.